TELL A FRIEND ABOUT THIS PRODUCT
Testimonials:
Second solar panel from Photonic. Always a good quality product. AA+++
Douglas (Cambridge, UK) - Oct 2017
We are a trusted supplier to thousands of UK clients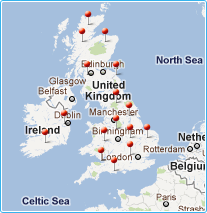 Morningstar controllers
Morningstar Relay Driver RD-1 for multi-channel voltage and parameter control functions
Phone order?
Call our number
0203 150 1111
and quote the product code below
(have your card and delivery details ready)
Working hours Mon-Fri 9am-6pm
As an official distribution partner of Morningstar products across the globe, we are proud to offer solar power equipment from this world-leading supplier. Innovative design from years of dedicated research and superior build quality enable these top-of-the-range products to achieve consistently high performance standards.
This innovative Morningstar Relay Driver is a highly flexible and fully programmable logic relay module which is capable of switching appliances on/off or sending a signal / generating an alarm when a predefined event occurs. The types of events which can be programmed into the relay driver to trigger a response include:
Battery voltage or another voltage parameter reaches a high or low voltage threshold
A connected Morningstar product (TriStar controller) generates an alarm or fault signal
Temperature of the relay driver or a TriStar controller raises or drops to a certain level
Another parameter measured by a TriStar controller / external sensor or device reaches a defined threshold
The relay driver includes 4 independent programmable channels which can work separately or together. In essence, each of the channels is a 750mA switch - which when activated - will connect this channel terminal to the ground terminal, thereby closing the necessary circuit. This action can enable a load, power a relay or trigger any other event as required. The outputs of multiple channels can be combined in various 'AND/OR' combinations to achieve the desired result. Each channel can also act as a sensor itself, to measure voltage or another parameter to trigger a response through other available channels.
The most common working mode for this relay driver is a Threshold control mode. In this setup, the driver works by constantly monitoring a certain parameter, for example: the battery voltage level (or a voltage level coming from another source), or temperature. When a defined high or low setpoint is achieved, the relay driver triggers a required action. For example, it can start powering a small load or turn on a bigger relay which connects a large load to the battery. It can start a generator or enable an external mains battery charger. It can send a signal to audible or visual alarm etc. The flexibility of all these actions and the response generated by the relay driver can be further enhanced and refined through additional threshold parameters such as a delay timer or min/max value limits.
Another working mode is GenStart. This is an advanced generator control mode which can have up to 3 channels programmed to start a generator when a certain event occurs. While it can work as a standard On/Off dry contact generator control for small and simple generators, in this mode the relay driver can also manage advanced generators which have a 3-wire control system. In this set up, the driver generates different types of signals that the generator requires to operate, such as: Run, Pre-crank (Pre-Heat), Crank (Momentary Run), Load, Stop etc; each with various durations, sequences and delays of these signals relative to each other.
The relay driver can be used as a standalone unit or as part of a larger system with a Morningstar TriStar solar charge controller or another Morningstar device (connected to the relay driver via a Meter Bus network). In this set up, the relay driver can work in Alarm / Fault mode where it activates a channel in response to a fault or alarm generated by the controller or another Morningstar device. A range of faults and alarms that can be monitored is vast and includes overcurrent, short circuits, miswiring, overheating, connection problems etc.
A truly versatile product, this relay driver can be used in a limitless number of applications and scenarios, for example:
To monitor battery voltage and when the battery is full, send the excess of solar energy to power a fridge or water heater
To monitor battery voltage and when the battery becomes too low, start a generator or mains battery charger to top it up, or disconnect any loads from the battery (low voltage disconnect)
To perform staged low voltage disconnect, where the most critical loads stay on for longer
In a wind power system, to divert the wind turbine power to a dump load when the battery is full
To improve the efficiency of a wind turbine by routing its output through a voltage boost converter at low RPMs but using the output directly at high RPMs
To activate cooling fans or battery fans depending on the temperature
For motion sensor control
For water level pump control
For pressure release valve control
For space heating or cooling
The relay driver is supplied with a PC connection cable which allows the unit to be easily programmed via the free Morningstar MSView Software.
This product is suitable for a wide range of battery voltages from 12V to 48V.
Click on the Details and Specifications tab for more information about this product.
Relay Driver Specifications:
Number of channels: 4
Nominal system voltage: 12V / 24V / 36V / 48V
Operating voltage: 8V - 68V
Maximum channel current: 750 mA
Self-consumption: < 20 mA
Transient surge protection: 1500W / channel
Temperature sensor range: -40°C - +85°C
Communication ports (opto-isolated): RJ-11 meter bus connections, 9-pin serial RS-232
Terminal size: 2.5mm2
Operating temperature: -40°C to +45°C
Storage temperature: -55°C - +85°C
Dimensions: 163 x 81 x 33 mm
Weight: 0.2kg
This product is covered by a 5 year warranty. For more information please refer to our Terms and Conditions.
This product comes with an instruction manual (see the 'Documents' tab for a download link) which explains connections and operations.
If you need help with installation or have any technical questions we can provide FREE support - please contact us by email or phone (see Contact Us page for more information).